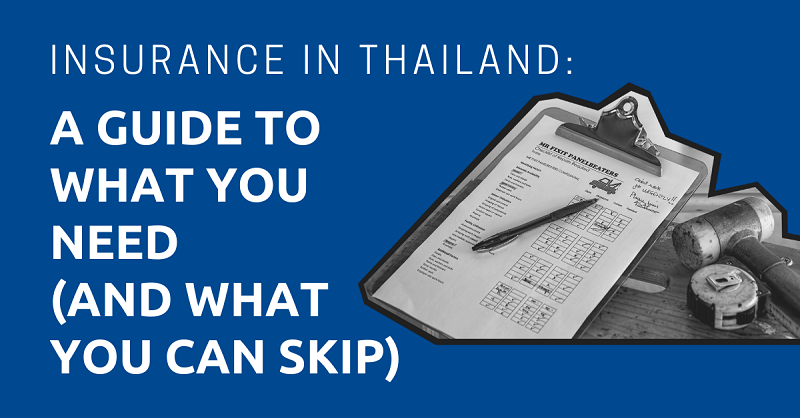 Having a good idea of the type of insurance you need is very important – it will help you to know what coverage you need and what your budget should be for that coverage. In this article, we'll explore the different types of insurance available in Thailand, as well as the benefits and limitations of each. We'll also discuss some tips on how to select an insurer based on your needs.
What is insurance?
Most people in Thailand have some form of health insurance, which is provided by the government or a private company. There are also many different types of insurance available in Thailand, including life, car, and travel insurance.
Insurance is a way of protecting yourself and your belongings from financial loss. It is a contract between you and an insurance company, where you agree to pay premiums (regular payments) in exchange for the company agreeing to pay you a set amount of money if you experience a covered event.
There are two main types of insurance: personal and property. Personal insurance protects you from financial loss due to events such as accidents, illness, or death. Property insurance protects your possessions from damage or theft.
When choosing an insurance policy, it is important to understand the coverage that is included. Coverage varies depending on the type of policy and the insurer. It is important to read the fine print and ask questions so that you know what is covered and what is not.
Health Insurance in Thailand
Health insurance is a topic of great concern for many people living in Thailand. The cost of medical care in Thailand can be very high, and if you don't have health insurance, you may find yourself unable to pay for necessary treatment.
There are a number of different health insurance plans available in Thailand, and it's important to choose one that fits your needs and budget. You can get health insurance through your employer, purchase a private plan, or enroll in the government-sponsored Universal Coverage Scheme (UCS).
The UCS provides basic health insurance coverage for all Thai citizens, but it does not cover everything. For example, it does not cover dental care or prescription drugs. If you want comprehensive coverage, you'll need to purchase a private health insurance plan.
When choosing a health insurance plan, be sure to consider what kind of coverage you need and how much you're willing to pay for premiums. It's also important to read the fine print carefully so that you understand exactly what is covered by your plan.
Workplace Insurance in Thailand
There are a few different types of workplace insurance available in Thailand, and it's important to know which one is right for your business. The most common type of workplace insurance is third-party liability insurance, which covers you in the event that someone is injured or property is damaged while on your premises. This type of insurance is typically required by law for businesses that have employees, so it's important to make sure you're properly covered.
Another type of workplace insurance available in Thailand is workers' compensation insurance, which provides benefits to employees who are injured while working. This type of insurance is not mandatory, but it's a good idea to have if you have employees.
Finally, you may also want to consider business interruption insurance, which covers lost income if your business has to shut down due to an accident or natural disaster. This type of insurance is not required by law, but it can be a good idea to have if your business is located in an area susceptible to natural disasters.
No matter what type of workplace insurance you need, make sure you do your research and compare quotes from different insurers before making a decision.
Car Insurance in Thailand
Car insurance in Thailand is a legal requirement if you want to drive a car. The minimum level of cover you must have is third-party liability, which covers damage caused to other people or property by your car.
There are different levels ofInsuring Modified Cars in Thailand, and it is up to you to decide what level of cover you need. If you are involved in an accident, your insurance will pay for the repairs to your car and any medical treatment you may need.
It is important to compare different insurance policies before you buy, as they can vary considerably in price and cover. Make sure you read the small print so that you understand exactly what is covered by your policy.
Conclusion
If you plan on spending any length of time in Thailand, it's important to understand the country's insurance system and what options are available to you. While health insurance is not mandatory in Thailand, it's still a good idea to have some form of coverage in case of an emergency. There are a variety of private health insurance companies operating in Thailand, so be sure to do your research before selecting one. And finally, make sure that your travel insurance policy covers you for any activities you plan on undertaking while in Thailand.